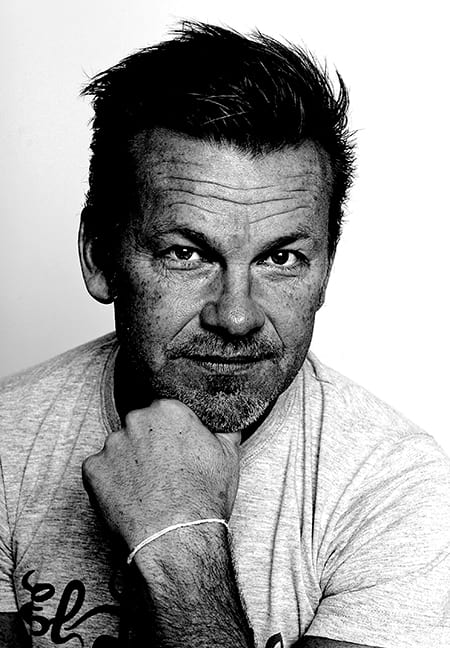 "It´s not like a calling, it´s more like a curse"

Christian Beijer is the artist who never chose art as an occupation; it chose him. Since childhood he was always into constructing, re-constructing, painting, building etc. From his very early years you would find him drawing mostly comic book figures - he absolutely adored early Disney and Tintin.
All the toys he received were nice, but in wrong colors (according to him), so he spent all his small pocket money on paint instead of candy, and repainted all the toys.
Growing up, music became more and more important. Artists like David Bowie showed a way to be the idiosyncratic character, as he never seemed to fit in - not like other boys. And Bob Marley gave him insight into the power of words, and the fight for equality.
Turning 15 in 1977, Christian was sent to London for summer by his parents, by ship from northern Sweden. He found himself a teenager in the middle of the Punk Rock movement. Just imagine!! That turbo-charged his interest in music and fashion, and he always says that the most important thing he learned from punk was that everyone is invited to have fun, play music and be a part of the scene.
Even if you couldn´t play guitar you could find yourself on stage in front of an audience. If you want to do it, you can! His love for music was so strong that he decided to be a DJ for a few years, playing at clubs with age requirement 20 when he was only 16.
All of his friends were musicians. But as he experienced stage fright, he took part in other aspects of music, not to miss out on all the fun.In 1984 he was invited to Lund and Malmö in the south of Sweden as a lighting engineer. He worked with several popular bands on wide-ranging tours for 5 years, becoming one of the two most sought-after in that profession. During that time he also started to design clothes. He felt he had to, because the shops "didn´t have any cool stuff". Soon after, some of the bands asked him to design their stage clothes. It was a little bizarre to see rock bands play in Flash Gordon type outfits. The demand went crazy, so he had to open a shop with his own brand. It was an instant success, with extensive magazine coverage. As a side project he became a stylist for fashion and advertising. He did Helena Christensen's very first project, in Lake Como Italy.
In 1989 Christian became a father for the first time. He decided he couldn´t stay in the fashion industry any more, so he closed the shop and took his family to Brazil. While there an artist friend urged him to paint instead of being restless. He soon discovered the pleasures of an ocean view behind coconut tress, brushes, oilpaint, canvases and a beer. He has never stopped painting ever since.
As he says:
"The joy of painting was in the limitless possibilities, do what ever you want!"
In 1990 he made his last designs for a band, painted all the time, and in 1991 he had his first exhibition. Everything sold out. In 1994 he had an exhibition in London at a fine art gallery, which attracted many famous people and was judged a big success. Since then he has sold out everything he has ever painted, up to this day.
And his exhibitions are a real entertainment to visit. Always full house and most of the times the gallery has to open one hour in advance, and often there´s a preview before the preview before the preview. I know there´s been some arguments about who was first on a painting.
The last exhibition in his hometown there was a line, 4 people wide and 50 meters long. From 1.30 to 4.30
There was a guard like in bars. 4 people out - 4 people in. It made the news the same evening.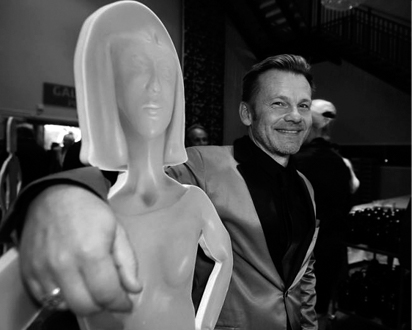 Meanwhile he has also done some design work that you may recognise:
Two premium vodka bottles, Heavy Water Vodka and DQ Vodka
A statue for Sundsvall business awards, Gloria, that 10 people have
received annually since 2005
A dragon statue for Sundsvall Dragon Parade, that is shown every summer all over the city
Many logos.
And coming soon, Christian is getting involved in eco-friendly wooden buildings, 5 stories high, in 19th century style, for apartments and commercial use. For these projects he is designing interior and exterior coloring, tiles, wallpaintings, wallpapers etc.
So stay tuned for more Beijer adventures!
Explore more of my life in my timeline